Rollout of the new Sustainable & Innovative Destination label to step up to the challenges of sustainable tourism

France Congrès et Evénements is rolling out its Sustainable & Innovative Destination label across some 20 French towns, with the support of Jean-Baptiste Lemoyne, Junior Minister for Tourism, French citizens overseas and Francophonie.
Initially scheduled for deployment in 2020 then postponed until the spring of this year, the rollout of the new Sustainable & Innovative Destination label, itself based on ISO20121 international certification, will go live with its eight constituent challenges* and 26 actions on social, environmental and economic commitments.
This is a major step for French towns fully committed to developing sustainable tourism. The approach covers both business and leisure tourism, and its greatest value lies in involving all the local stakeholders (visitors, businesses, residents ) in successfully implementing the designated actions and achieving the targets set.
A certifying body will be responsible for auditing and certifying the destinations signing up to the scheme. The first certifications are expected in the second half of the year, if the conditions for a resumption of business activity are in place.
David Lisnard, Chair of France Congrès et Evénements, had this to say: "The pandemic has proved an accelerator of change, and thus an opportunity to steal a march on the competition. Over and above providing reassurance on the health front, we need to build the future of tourism to our destinations by innovating, on both the business and the leisure markets. This is what we are about to demonstrate with the rollout of this Sustainable & Innovative Destination label. The events industry and business tourism remain the core focus for FCE, but steering an entire destination towards sustainable development calls for a comprehensive approach
that also incorporates an element of leisure tourism. When it comes to the offering and its attractiveness, it makes sense to think in terms of complementarity: a conference attendee may also have an interest in art, culture, sport or whatever".
* A standard based on eight challenges, broken down into 26 actions
– Challenge 1: Deploy open and transparent governance
– Challenge 2: Reinforce sustainable mobility to align with the carbon neutral by 2050 trajectory
– Challenge 3: Encourage responsible consumption and combat waste – Challenge 4: Make tourism a driver of inclusion
– Challenge 5: Add value to the destination's economy and protect its heritage
– Challenge 6: Mobilise resources to encourage sustainable innovation in the tourism sector
– Challenge 7: Involve tourists, professionals and event organisers in the sustainability dynamic
– Challenge 8: Pay particular attention to public safety
The nine "pilot" destinations that have adopted the approach Biarritz Tourisme
Office de Tourisme et des Congrès de Bordeaux Métropole
Palais des Festivals et des Congrès de Cannes
Destination Deauville
Office Métropolitain de Tourisme et des Congrès de Marseille
Inspire Metz
DESTINATION NANCY
Nantes Métropole
Destination Rennes
Those preparing to sign up to the process
Destination Angers
Communauté Urbaine de Dunkerque
La Baule Evénements
Agglomération de La Rochelle
Le Touquet Paris – Plage
Hello Lille
ONLYLYON Tourisme & Congrès
Office de Tourisme et des Congrès de Montpellier Méditerranée Métropole Métropole Nice Côte d'Azur et Régie Acropolis
Tours Evénements
and others to follow…
Contact: Céline Fricotté, Communication Officer – [email protected] evenements.fr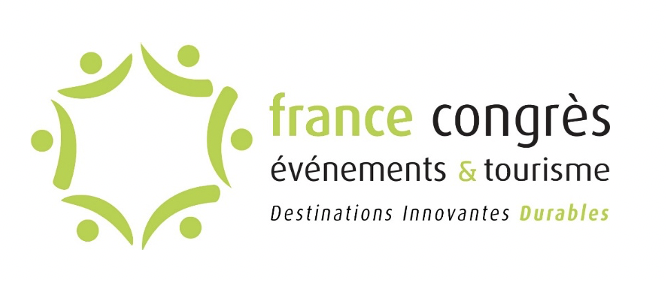 France Congrès et Evénements is the association of meeting and events destination towns.
Chaired by David Lisnard, Mayor of Cannes, the organisation brings together elected officials (mayors and chairs of conurbations) and trade partners (site managers, service providers, etc.), and involves organisers (professional federations) in its work.